THE TAP ROOM
at Fredonia Brewery
The
TAP ROOM, PATIO, & BEER GARDEN
---
Our family friendly tap room features some very local items, such as the bar surround and bar top. The bar surround is timber framed local pine done by Red Suspenders, Tim Chavin, and uses no nails or screws in its construction. The bar top is a few very large pieces of local black walnut harvested after a massive lighting strike hit the tree. Local carpenter, Barry Jordan, built the bar top and front, drink rails, as well as the framing around our glass front, can display wall. Currently, we have 21 tap handles in our tap room.
Our pet and family friendly patio and beer garden have shady spots and seating to enjoy our beer in. We built 30 large tables and 60 benches with Paul's friends from his time in the Coast Guard, Chris and Jacob Philbrook from Cape Cod, and several of our buddies from Nacogdoches. Our beer Garden is surrounded by the beautiful landscaping from the former owners of the property, Dragon Fly Nursery. The pergolas, outdoor tap area and rest room thanks to the Dragon Fly folks as well. Our Beer Garden and Patio are pet-friendly, we just ask for owners to keep their pets on a leash. Water bowls are spread around the Beer Garden for the four legged patrons of Fredonia Brewery to quench their thirst as well.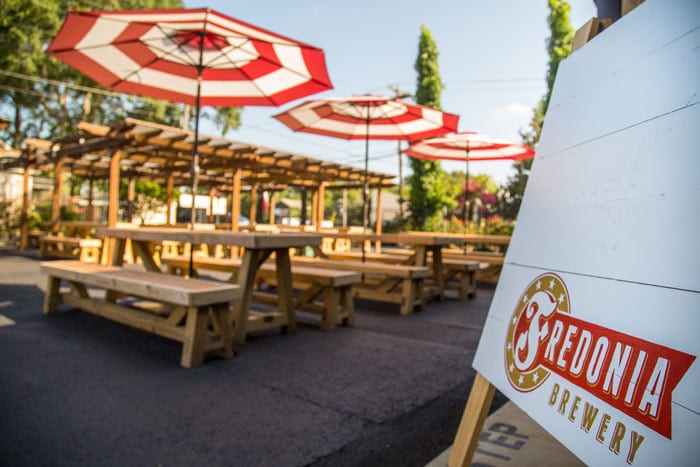 We have space and connections for two food trucks that change from each weekend that we are open to the public. The food trucks have been really we received and a great addition to the experience our patrons and us have
here
at Fredonia Brewery.
If you're in the mood for wine we offer three delicious options from Messina Hof Winery. Family owned and operated out of Bryan Texas. Enjoy either a glass of red, white, or a rotating sweet selection.

OPEN WEDNESDAYS
---
5:00 pm to 9:00 pm
OPEN THURSDAYS
---
5:00 pm to 9:00 pm
LONE STAR TRIVIA
OPEN FRIDAYS
---
4:00 pm to 9:00 pm
OPEN SATURDAYS
Pints on the Patio
---
12:00pm to 10:00pm
OPEN SUNDAYS
---
12:00pm to 5:00pm
For up to the minute updates
PLEASE CHECKOUT OUR FACEBOOK PAGE
---
2400+ unique cans collected since 1959 by John Allerding and his family from Loudonville, Ohio are displayed in a glass wall in our tap room. It is a really fun attraction to check out while enjoying a pint of Fredonia Brewery beer.
Have a question about the brewery?
SEND US AN EMAIL
---